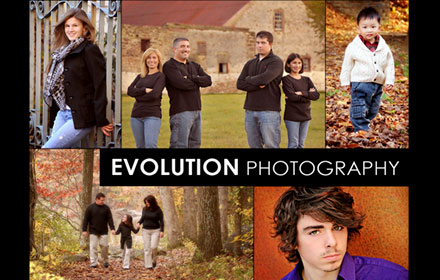 need to know:
Skilled photographers who conveniently come to you
Fresh, fun, and innovative photographic styling customized to your specifications
Receive a complimentary 11x14 portrait of your favorite image to display
what & why
An elegant, effortless family portrait is the holy grail of most family photo album collections. Despite your best efforts, there are probably a few laughable moments documented on film — chopped off heads, crying babies, and family members all looking in different directions. Leave the capturing of invaluable family memories to the professionals and snap up today's kgbdeal, an unbeatable 80% discount for an incredibly convenient on-location photo shoot that includes a free 11x14 print of your best shot. Evolution Photography is the home of one of Delaware Valley's best photographers who is committed to immortalizing that elusive perfect picture.

kgb agent insider tip:

Be sure to wear comfortable clothing that reflects your personality but does not steal attention from the overall photograph.

Reviews:

Certified Master Photographer Randy Davis was awarded "Best Portrait Of A Man", "Best Portrait Of A Woman", and "Best Portrait Of A Child" in 2010 by The Guild Of Professional Photographers of the Delaware Valley, Philadelphia, PA .

Randy was also honored to be published in the 2010 Edition of the PPA Loan Collection Book This book is published every year to showcase the finest photographs in the world by Professional Photographers of America.