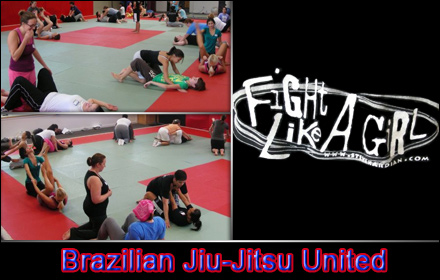 need to know:
A self-defense class designed exclusively for women and girls ages 12 and up
Great for all fitness levels, especially as a way for people who aren't in perfect shape, to leverage knowledge and technique against the weight and strength of an attacker
Two course levels to develop and refine your self-defense skills — buy two vouchers and get both at a discounted price!
what & why
No one ever tells you to "fight like a girl" – but doing it right could save your life. Redefine that phrase and build an arsenal of self-defense moves with
Fight Like A Girl
. Pay just $20 for the beginner's session of FLAG with today's lean, mean kgbdeal and get ready for whatever comes your way. Or, buy two vouchers and complete both levels of the course. FLAG is a great way to leverage simple, easy-to-remember moves to defeat the weight and strength of an attacker. Even if you're small, you can defend yourself effectively with the right moves. Even for those who aren't in perfect shape, self-defense techniques level the playing field and give you the ability to fight back when you need it most. FLAG workshops are hosted at various locations around the area. For a complete list of dates, times, and locations, visit
idefendme.org
. This is a great gift for yourself, friends and family, or the woman you love.
kgb agent insider tip:
FLAG is a women's self-defense class with proven techniques developed by regular women, based on real scenarios and the testimonies of attack victims, and extensive workshops in realistic situations.
Reviews:
"FLAG was an extremely empowering high-quality training as well as a positive bonding experience with my daughter and I am grateful to have had the opportunity to attend. I look forward to more!" –A.A.F.