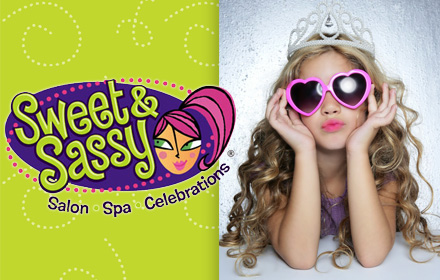 need to know:
A fancy salon experience designed just for little girls
Custom haircut and glam blowout will leave her hair looking polished and gorgeous — perfect for a party, family photo, or special occasion
"Mini" mani suited to little hands, in cute colors of her choice
what & why
Every girl wants to be a glamorous princess or movie star sometimes, but how many ever get treated like one? Make your little girl's dream come true with a fabulous spa package at Sweet & Sassy, the salon just for pint-sized spa mavens. This special package, concocted just for kgbdeals, includes a stylin' haircut and glam blowout perfect for a party or any fancy occasion, and a mini-mani in her choice of colors (just for little hands), all at a fun, special spa that's tailor-made for girls. Spend just $15 for the package with today's purple, sparkly kgbdeal – at this price, why not send her sisters and cousins, too?

Other Location:

Towne Place at Garden State Park
957-961 Haddonfield Road, Suite 1
Cherry Hill, NJ 08002

kgb agent insider tip:

Sweet & Sassy now offers free ear piercing with purchase of a pair of earrings.